EP 2 – Lithium Complex Grease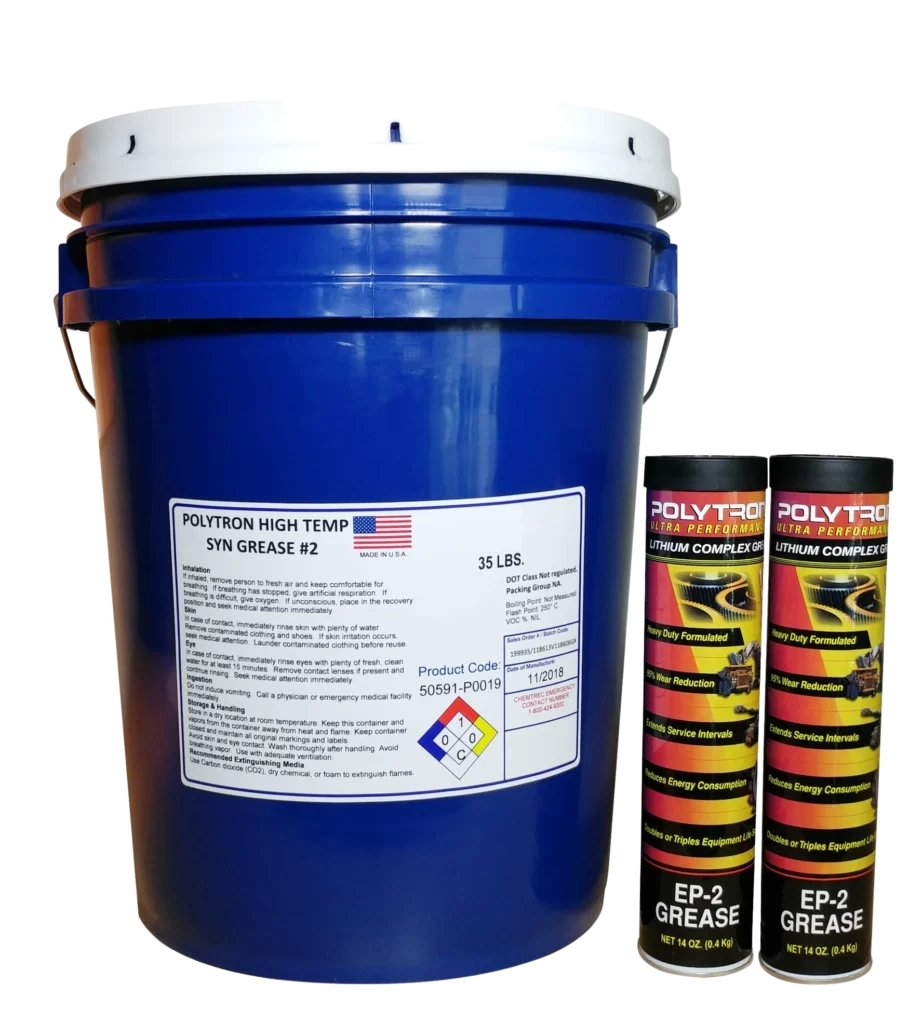 extreme pressure 2 - lithium
COMPLEX GREASE (EP2 - LCG)
POLYTRON EP-2 Lithium Complex Grease is a superior quality, multi-purpose, wide temperature range made from lithium complex soap, quality base oils, scientifically engineered POLYTRON anti-wear friction reducing formula and other additive packages to give it its outstanding qualities. It is an excellent automotive wheel bearings and chassis lubricant which is also recommended for all types of bearings, gears and couplings in industrial commercial applications. It may also be used in electric motors of NEMA insulation class A and B types.
WHY CHOOSE POLYTRON EP2 – LITHIUM COMPLEX GREASE?
Eliminate friction and wear (up to 95%).
Increase service life of equipment (by up to 600%).
Keep equipment parts clean at all times.
Protect equipment in a wider range of temperatures and harsh working conditions (like dust ormoisture).
Lower the operating temperature of your equipment.
Protect equipment for a reasonably long time in the event of loss of grease.
POLYTRON EP-2 Lithium Complex Grease, because of its outstanding properties, is a truly superior performing, multipurpose grease. Its track record indicates that its use will reduce equipment maintenance frequency and down time to 4 to 7 times. The equipment is protected in the event of loss of grease or grease pumping system failure
PERFORMANCE
Formulated with high quality base oils and lithiumcomplex soap. The natural oxidation stability of this formulation is enhanced by effective oxidation inhibitors.
Combines high temperature stability, extreme pressure and outstanding anti-wear properties with excellent water resistance and rust and corrosion protection. POLYTRON EP-2 Lithium Complex Grease exhibits excellent mechanical stability which minimizes softening under severe shearing conditions.
Exhibits outstanding pump ability and may be applied by conventional lubricating equipment. POLYTRON EP-2 Lithium Complex Grease is usable over a wide temperature range. It will not harden or decompose under severe working conditions at elevated temperatures, and it does not soften excessively during high-speed contact bearings.
Forms a good seal, which minimizes bearing
contamination.
APPLICATION
Rolling contact bearings in electric motors, blowers, centrifugal pumps, etc.
Rolling contact and plain sleeve bearings in harshenvironmental conditions involving moisture, extreme temperatures, dirt and dust.
Automotive applications, including chassis, wheel bearings and water pumps.
Industrial applications including all types of bearings, gears and couplings.
Industrial applications where loads and temperatures are high and the atmosphere is dusty, such as: jaw crushes, tube mills, trunnion rolls, mining, smelters, material processing, cement and aggregate industries.
10 WAYS POLYTRON IS CUTTING EQUIPMENT MAINTENANCE COSTS AND IMPROVING PERFORMANCE
Polytron products are different from any other lubricant or additive, using proprietary metallurgical technology to smooth and harden mating surfaces at microscopic levels to reduce friction and wear by up to 95%. From industrial machinery to fleet cars, adding Polytron to motor oil or lubricant dramatically improves performance and extends equipment life while slashing fuel, oil and maintenance costs.
Frequently Asked Questions