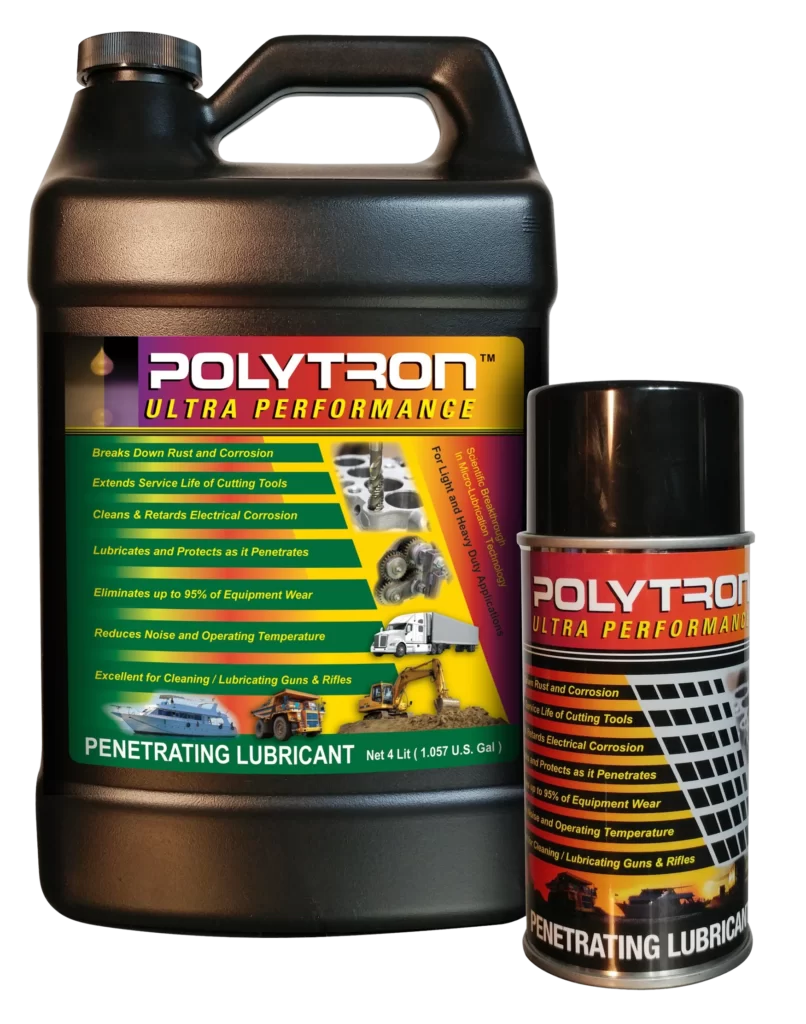 POLYTRON Penetrating Lubricant contains POLYTRON MTC and is scientifically blended to be the most effective whenever rust, corrosion or drag is a factor. POLYTRON PL not only penetrates through extreme rust and corrosion, it also treats the metal surface to reduce friction and eliminate wear. Use of this product provides for long lasting, smooth operation of any metal mechanism. The number of applications and benefit range far exceeds those of any other known product. It can be used for the simplest home needs, as well as for the most severe industrial applications. POLYTRON PL is highly recommended for general machine shop work like drilling and tapping.
WHY CHOOSE POLYTRON PENETRATING LUBRICANT?
Eliminate friction and wear (up to 95%)
Increase service life of equipment (by up to 600%)
Keep equipment parts clean at all times
Protect equipment in a wider range of temperatures and harsh working conditions (like dust or moisture)
Lower the operating temperature of your equipment
PERFORMANCE
Fast penetration
Breaks down rust and corrosion
Speeds up drilling and tapping
Cutting edges of cutting tools stay sharp longer
When used as lubricant, reduces
power consumption
Reduces noise
Eliminates wear
Lubricates and protects as it penetrates
Cleans and retards electrical corrosion
APPLICATION
Sliding doors and windows
Hinges and locks
Valves and Chains
Bolts, screws and cams
Screw jacks
Bicycles and motorcycles
Electric terminals
Drill bits and taps
Electric and air tools
Hunting and fishing equipment
Slides
Guides
Ways
Racks
Pinion sets
Moving parts of electrical and air tools
Moving parts of conveyors and electrical motors in a variety of industrial and commercial equipment
10 WAYS POLYTRON IS CUTTING EQUIPMENT MAINTENANCE COSTS AND IMPROVING PERFORMANCE
Polytron products are different from any other lubricant or additive, using proprietary metallurgical technology to smooth and harden mating surfaces at microscopic levels to reduce friction and wear by up to 95%. From industrial machinery to fleet cars, adding Polytron to motor oil or lubricant dramatically improves performance and extends equipment life while slashing fuel, oil and maintenance costs.
Frequently Asked Questions